Cleveland Hopkins Airport Departures (CLE)
Not all flights may be showing. If not available use search above to find your flight by airline, airport or flight number.
Destination
Airline
Flight no.
Scheduled
Est./Actual
Status
Orlando (MCO)
Frontier
F91045
08:29
Scheduled
Las Vegas (LAS)
Spirit Airlines
NK1069
08:45
Scheduled
Phoenix (PHX)
Frontier
F92417
08:46
Scheduled
Tampa (TPA)
Spirit Airlines
NK3355
08:50
Scheduled
Fort Myers (RSW)
Frontier
F92421
09:38
Scheduled
Tampa (TPA)
Frontier
F92437
09:58
Scheduled
No flight departures were found at Cleveland Hopkins Airport.

Flight Departures at Cleveland Hopkins Airport
Important information for those departing from Cleveland Hopkins International Airport, including how to get there, where to park and if it is possible to withdraw some money, eat or drink at the airport.
Parking at Cleveland Hopkins Airport
There are several options for parking at Cleveland airport, from the CLE Smart Parking Garage with covered walkways and skywalks leading directly to the terminal to surface lots. All within walking distance to the airport terminal. Parking fees are paid with credit card only. Valet parking is available for anyone at any time at Door 1 on the upper driveway. The CLE Smart Parking Garage offers hourly parking for $5.00 per hour for the first three hours, after 4 hours the daily maximum rate of $20.00 is reached. Valet parking offers from 30 minutes and up, while the other parking options have a daily fee only.
Transfers at Cleveland Hopkins Airport
Please remember to collect your belongings before leaving your means of transfer to enter the airport terminal.
Rental cars – All car rental companies at Cleveland Airport request that vehicles are returned to the car rental facility located off airport grounds unless the customer is instructed otherwise. Complimentary shuttles transfer travelers to the terminal building Door 4. Shuttles run continuously at all times and the ride takes around 5-7 minutes.
Buses – There is no public bus transfer servicing the airport, however, more detail on getting to or from Cleveland Airport by bus can be found here.
Travelers arriving at the Greyhound Station will want to transfer to an RTA Red Line station to continue the transfer to the airport. Tower City Station is the closest station located a 20 minute walk from the Greyhound Bus Station. There are a few bus routes that stop near the Station that run to Tower Station.
Taxis – Taxis will drop passengers off in one single location at the airport, at the south entrance. A taxi journey between downtown Cleveland and the airport costs around $45-50 and takes approximately 20-25 minutes depending on traffic.
Hotel Shuttles – Some hotels offer the service of shuttle transfer to the airport to their guests, usually at an additional fee. These are pre-arranged by the traveler or their representative.
Private Transfers - You can also arrange private transfers to or from Cleveland Airport which can be booked in advance.
WiFi at Cleveland Hopkins Airport
The airport offers free WiFi to all travelers, available in all concourses, the main terminal and the baggage claim area.
Smoking at Cleveland Hopkins Airport
Smoking is only permitted in designated areas outside the airport terminal.
Courtesy Phones at Cleveland Hopkins Airport
White courtesy phones can be found throughout the airport. These can be used when in need of emergency assistance or for questions about the airport. Dial extension 6000 to connect with the Information Desk.
ATMs at Cleveland Hopkins Airport
Nine ATMs are located in various areas of the airport's facilities as follows:
Concourse A, next to Gate A-1.
Concourse B, next to Gate B-5 and Retail Core.
Concourse C, next to Gates C-5 and C-14.
Main Terminal, next to South Checkpoint.
Ticketing Area, next to the Airport Information Center.
Baggage Claim, next to the Welcome Center.
Rental Car Facility.
Passenger Bridge on Level 3 of the CLE Smart Parking Garage.
Mother's Room at Cleveland Hopkins Airport
A Mother's Room dedicated for the purpose of nursing mothers that wish to have some privacy can be found in Concourse B, across from Gate B-1. The room is divided into two separate nursing rooms with comfortable seating and an outlet with a connecting common room with a changing table and a sink where well-behaved accompanying children can wait.
The room is entered through the white courtesy phone adjacent to the door. When dialing the number indicated an operator will check the security camera above the door to ensure only nursing mothers can enter before letting anyone in.
Interfaith Center at Cleveland Hopkins Airport
An Interfaith Center is situated on the secure side of the Concourse B Security Checkpoint. The Center is open all days from 5.00 AM to 11.00 PM to members of all faiths that wish to take a few moments of silence for prayers or meditation.
A Service is held on the first Sunday of every month, at 10.00 AM.
Pet Relief Area at Cleveland Hopkins Airport
A pet relief area is located in the Main Concourse in between the North and the Central Checkpoints. Pickup bags and trash receptacles are available and pet owners are asked to clean up after their pets. There is also a pet relief area at the north end of the baggage claim area.
Testing for Covid-19 Antigen, Antibody and PCR at Cleveland Hopkins Airport
The airport offers both scheduled and walk-up testing to travelers. Some destinations require a fresh test result for antigen, antibody or PCR and the testing can be done at the airport. The airport does not require travelers to test.
Mail services at Cleveland Hopkins Airport
If you cannot get something through the security control, and it can be mailed, Airport Mailers offer mail-it-home services to travelers. For more information, please visit the Airport Mailers website. http://www.airportmailers.com/
A mailbox from the U.S. Postal Service can be found in front of the North Security Checkpoint. The mail is picked up Monday-Saturday at 10.45 PM. There is no mail service on Sundays.
Shopping, Food and Beverages at Cleveland Hopkins Airport
Once through to the airside/secure side of the airport there are many options for shopping, eating and having something to drink before departure.
Was your flight delayed or cancelled?
You may be eligible to receive up to 600 EUR compensation per person in your party..
Claim Now!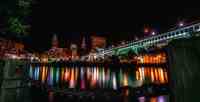 Things to see and do in and around Cleveland, local to Cleveland Hopkins Airport