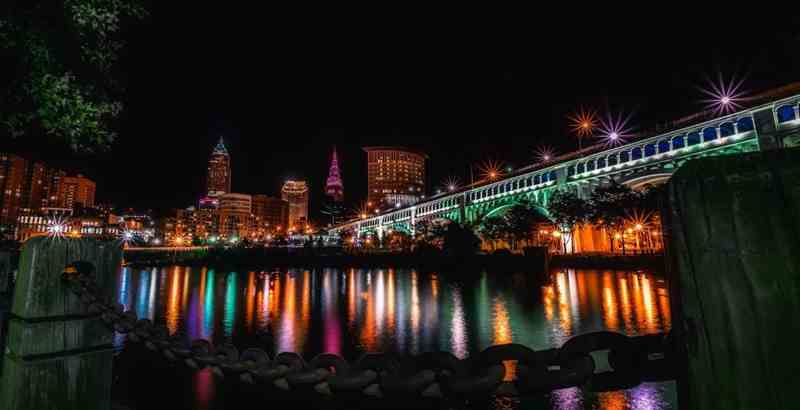 Cleveland Ohio Tourist Attractions
Cleveland, Ohio is located on Lake Erie's southern coast with Canada situated right opposite on the other side of the lake. We have listed a few of the activities a visitor, or resident, can do in Cleveland, including some links to getyourguide.com and activities they offer.
Whether you are here for fun, culture, history or relaxation Cleveland has something to offer all interests and all budgets.
Cleveland History Center General Admission Entry Ticket
Take a journey through Cleveland's history, starting from 1796 leading up to today, at Cleveland History Center. This general admission ticket is exchanged at the main entrance where you will either be assigned or get to select an exact time of entry by the center's staff, due to Covid-19 regulations.
Cleveland History Center is a place filled with the history of Cleveland, from the first map to Lebron James' championship shoes. Here you can see engaging exhibits covering architecture, automobiles, aviation, fashion, and more, and learn about the origins of the city.
The center is located in the picturesque University Circle neighborhood and it features the city's history which includes one of the most comprehensive costume and textile collections in the US and visitors can also take a ride on the historic Euclid Beach Park grand carousel and wander through 2 historic mansions.
Cleveland: Private City Tour
This small, private group tour of Cleveland is 3 hours long and includes pickup from either your hotel or a specified address in Cleveland.
The tour guide will take you through a journey of discovering this lakefront city. The tour starts downtown and will take you through and to several Cleveland neighborhoods, such as Ohio City and Tremont and Little Italy.
You will get to see Cleveland Museum of Art, Botanical Garden, Case Western Reserve University and Lakeview Cemetery, take stroll through West Side Market, see the historic homes of The Heights, discover Playhouse Square (6 restored theatres that make up the 2n largest theatre complex in the US) and explore the Edgewater Park boasting picnic areas, hiking trails and areas for swimming or boating as well as the best view of the Cleveland skyline.
You get to see Millionaire's Row and revitalized neighborhoods full of restaurants, churches, music, gardens and impressive architecture and also discover waterfront attractions such as the Flats and the Rock N roll Hall of Fame and much more.
Cleveland: Brewery Tour with Craft Beer Tastings and Lunch
Go behind the scenes of Cleveland's craft beer production on this all-inclusive tour of 4 breweries that includes sample tastings of up to 16 different beers and a delicious beer-inspired lunch.
During the tour you get to tour the production spaces while learning about craft beer-making processes at some of the greatest breweries and trendy brewpubs, such as Brick and Barrel, Terrestrial Brewing, Great Lakes Brewing and Platform Beer, in the state of Ohio in an entertaining way.
The beer-pairing lunch includes apple walnut salad, spicy Nashville chicken skewers, coleslaw and pizza Margherita as well homemade popcorn from Collison Bend's original recipe.
Your guides will safely transport you from one location in a comfortable, air-conditioned vehicle to the next while providing you with interesting beer facts.
Cleveland: Brewery Tour with Tastings
On this tour you get to tour 3 local Cleveland breweries to get an exclusive look at the production processes and what makes each brewery unique. During the 3,5 hours the tour takes you to sample up to 12 beer styles as well as enjoy a local Brewnuts snack while also being entertained and educated with interactive lessons. The fresh Brewnut is a craft beer based donut made in Cleveland.
Exactly which breweries you will get to visit varies but you might visit Brick and Barrel, a nano brewery founded in 2014 by founder and brewer Karl Spiesman, where you get to discover why the brewery is called Brick and Barrel. Or perhaps you get to visit Terrestrial Brewing where you get to learn how a team of self-proclaimed hippies wanted a brewpub focused on the taproom styles of the Northwest in Cleveland, and maybe there will be a visit to Great Lake Brewing built by 2 Irish brothers, Patrick and Daniel Conway, in 1986 even though they had very limited brewing experience, but a combination of passion, commitment and knowledgeable people around them managed to create a sophisticated and diverse selection of craft beer. Finally you may get to enjoy a visit to Platform Beer that has grown into one of Ohio's most revered breweries now serving an ever-changing selection of styles including 20 house beers.
Playhouse Square is part of the region's theatre district and the second largest center for performing arts in the USA. It houses 6 restored theatres and a wide variety of touring Broadway shows come for a stop offering shows you might have been wanting to see, but there are also local productions to be seen almost every day of the week. This is also the place where the world's largest outdoor chandelier hangs.
Edgewater Park is a 147 acre park in Cleveland's Metroparks Lakefront Reservation and it features 9,000 feet of shoreline, beaches for swimming (humans and dogs), boating, fishing, picnic areas and grills open for the public to enjoy. It is a perfect place to spend a day relaxing, playing, swimming, boating, fishing, hanging out with friends and family, or having a taste of local brews in a homey beach house.
Rock and Roll Hall of Fame and Museum, also known as the Rock Hall, opened in 1995 and its mission is to engage, teach and inspire through the history of rock n' roll music. The 7 level building architecture and built for the purpose of the Rock Hall houses exhibitions, music and artifacts of rock n' roll artist throughout history showing the diversity that stretches over borders of gender, age, ethnicity, country, religion as well as social and culture differences whether the artist was a one-hit wonder, Elvis Presley, Chuck Berry or Aretha Franklin.
UNBEATABLE VALUE CAR RENTAL

FREE
Amendments,
FREE
Cancellations,
NO
card fees!

airport_shuttle Need Airport Transfers?
Useful Information about Cleveland Hopkins Airport