CLEVELAND HOPKINS AIRPORT (CLE) INFORMATION
Origin
Airline
Flight no.
Scheduled
Est./Actual
Status
No flight arrivals were found at Cleveland Hopkins Airport.
Destination
Airline
Flight no.
Scheduled
Est./Actual
Status
No flight departures were found at Cleveland Hopkins Airport.
Car Hire at Cleveland Hopkins Airport
UNBEATABLE VALUE CAR RENTAL
Free Amendments | Free Cancellations | No Card Fees




Cleveland Hopkins International Airport - All Information on Cleveland Hopkins Airport (CLE) Cleveland Hopkins Airport
Cleveland Hopkins International Airport, 5300 Riverside Dr, Cleveland, OH 44135, USA
phone +1 216 265 6000
phone+1 216 265 0777 (Lost + Found)
Facts and History about Cleveland Hopkins Airport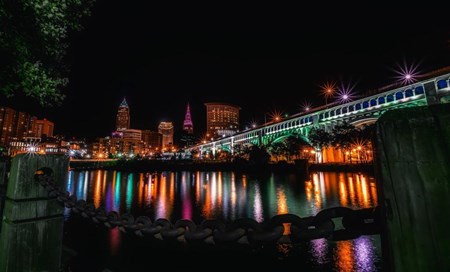 Cleveland Hopkins International Airport is the primary airport serving Greater Cleveland and the Northeast Ohio area. It is also known as Cleveland Hopkins, Cleveland Airport, Hopkins Airport, Cleveland International or Hopkins International Airport. The IATA code is CLE and the ICAO code is KCLE.
The airport is located 14 km/9 mi southwest of Downtown Cleveland, in the Hopkins neighborhood. The airport is adjacent to one of NASA's ten major field centers, the Glenn Research Center.
Cleveland Airport is owned by the City of Cleveland and operated by Cleveland Airport System and it is the hub for Frontier Airlines.
The airport was the first international airport in North America to be directly connected with a mass transit system through their rapid transit train line that first opened in 1968.
Cleveland Hopkins was founded in 1925 by William R. Hopkins after whom the airport was named in 1951, on Mr. Hopkins' 82nd birthday.
The current passenger terminal was completed in 1978 and renovated in 2016 and it has two levels and four concourses of which three, A, B and C, are in current use. The concourses are however older than the main terminal connecting them is. Concourse A opened in 1957, Concourse B in 1954 and Concourse C in 1969 and they have all been renovated at least once since. Concourse D has been vacant since 2014 when United Airlines decided to no longer use the airport as their main hub and center of operation after several decades of operating from it.
Gates are lettered after the concourse it is located in with a number after it and they are mainly assigned to a specific airline.
Concourse A houses Allegiant Air, Frontier, Spirit, charters and all international flights. Concourse B houses Delta Air Lines and Southwest Airlines while Concourse C houses Air Canada Express, American Airlines, JetBlue Airways and United Airlines.
Cleveland Hopkins International Airport has tree runways, 2 of which are concrete and one which is asphalt/concrete. The two concrete runways are 3,034 m/9,953 ft and 2,743 m/9,000 ft respectively while the asphalt/concrete runway is 1,834 m/6,018 ft.
10,040,817 passengers moved through the airport in 2019 while in 2020 it was 4,122,517.
Arrivals, Departures and Airlines at Cleveland Hopkins Airport
Transfers at Cleveland Hopkins Airport
Always remember to collect your belongings from your choice of transfer to the airport, or from the baggage claim before proceeding.
Rental cars – The rental car companies at Cleveland Hopkins Airport are all found in the consolidated car rental facility located off airport grounds. Transfer to the facility from the terminal is most easily done by using the complimentary shuttle bus service found at Door 7, across from the baggage claim.
All rental cars are to be returned to the car rental unless the customer is instructed otherwise. Complimentary shuttles transfer travelers to Door 4 the airport terminal.
Shuttles run continuously at all times and the ride takes around 5-7 minutes.
Buses – There is no public bus service offering transfers at the airport, however you can book a private transfer to or from Cleveland Hopkins Airport.
Regarding general travel by bus near the airport, the Bus station in Cleveland, as well as the Greyhound Bus Station, can be reached most easily through the rapid train system RTA Red Line that connects the airport with Tower City Station in downtown Cleveland. See more information below.
Once at Tower City Station it is possible to transfer to a bus route, either RTA or other, to transfer to the Greyhound Station or other areas of Cleveland.
Taxis – Taxis are found at the south entrance of Cleveland Airport where a representative for the taxi companies will assign a taxi to you. The journey to downtown Cleveland takes an estimated 20-25 minutes and will cost an estimated $45-50 depending on traffic.
Trains - Cleveland Airport has it's own train station run by the RTA. RTA's Airport Station is located on the lower level of the terminal building. To reach it take one of the escalators or elevators, located near the center of the baggage claim or ticketing levels, to the lower level.
Hotel Shuttles – Some hotels organize shuttle bus transfers for their guests in advance of arrival or departure.
Limousines and Ride Shares – These types of transfer are always arranged by the traveler or a representative of the traveler.
Lounges at Cleveland Hopkins Airport
The Bob Hope USO lounge is located at the north end of the airport's baggage claim level, adjacent to Carousel 1 while the United Club is located in Concourse C. The Club CLE lounge is coming soon and it is located in Concourse C.
Parking at Cleveland Hopkins Airport
Cleveland Airport offers several options for parking, all within walking distance from the airport terminal. The surface lots charge a daily fee while the CLE Smart Parking Garage offers hourly fees, up to 3 hours after which it becomes a daily fee.
The only accepted payment method is credit card paid at the exit when leaving the parking lot/garage.
The Cell Phone Lot is located only a few minutes from the terminal. This is where greeters can wait in the vehicle for the arriving traveler to be ready for pickup at curbside. No vehicles may be left unattended.
WiFi at Cleveland Hopkins Airport
Free WiFi is offered by the airport and is available in all secure areas of the airport.
Smoking at Cleveland Hopkins Airport
It is only permitted to smoke in the designated areas that are located outside of the terminal.
Courtesy Phones at Cleveland Hopkins Airport
The white courtesy phones that can be found throughout the airport can be used when in need of emergency assistance or for questions about the airport. To connect with the Information Desk dial extension 6000.
ATMs at Cleveland Hopkins Airport
There are nine ATMs located in various locations of the airport's facilities:
Concourse A - next to Gate A-1.
Concourse B - next to Gate B-5 and Retail Core.
Concourse C - next to Gates C-5 and C-14.
Main Terminal - next to South Checkpoint.
Ticketing Area - next to the Airport Information Center.
Baggage Claim - next to the Welcome Center.
Rental Car Facility.
Passenger Bridge - Level 3 of the CLE Smart Parking Garage.
Mother's Room at Cleveland Hopkins Airport
A room dedicated to nursing mothers that wish to find some peace and privacy for nursing is situated in Concourse B, across from Gate B-1. The room is secured with a security camera located outside the door and the door is opened by the operator answering the call from the white courtesy phone located next to it. Only nursing mothers are allowed in, together with any accompanying children.
The room is divided into three areas, two nursing rooms with comfortable seating and an outlet and a common room with a changing table and a sink where well-behaved children can sit and wait while the mother is nursing.
Interfaith Center at Cleveland Hopkins Airport
Travelers of all faiths can use the Interfaith Center for a few minutes of silent prayer or meditation. It is open all days from 5.00 AM to 11.00 PM and is located on airside of the Concourse B Security Checkpoint. A service is held at10.00 AM on the first Sunday of every month.
Pet Relief Area at Cleveland Hopkins Airport
Two pet relief areas can be found at the airport, one in the Main concourse between the North and Central Checkpoints and one next to the USO lounge at the north end of the Baggage Claim area.
Covid-19 Testing at Cleveland Hopkins Airport
The airport does require any tests for visitors or travelers to enter the airport terminal. They do however offer antigen, antibody and PCR testing to those who have to provide a test result at their destination. Testing is open for both scheduled appointments and walk-ups.
Mail Services at Cleveland Hopkins Airport
Airport Mailers is a company that offers mail-it-home services to travelers. If a traveler has an item they can't get on the plane, maybe the bag is too full, Airport Mailers will help you mail it to yourself. For more information visit their website. http://www.airportmailers.com/
The one U.S. Postal Service mailbox available at the airport is located in front of the North Security Checkpoint. Mail is picked up Monday-Saturday at 10.45 PM. with no mail services on Sundays.
Shopping, Food and Beverages at Cleveland Hopkins International Airport
There are plenty of options for shopping, eating and a drink at the airport, once through the Security Checkpoints. Before Security there are few options.
Things to do in Cleveland
There are a number of activities to suit all ages and interests in the region - see a selection of tourist activities in Cleveland, Ohio in the United States of America.
Cleveland Hopkins International Airport Contacts
Address: Cleveland Hopkins International Airport, 5300 Riverside Dr, Cleveland, OH 44135, USA
General Phone: +1 216 265-6000
Lost and Found Email: https://www.clevelandairport.com/lost-found
Lost and Found Phone: +1 216 265-0777
Official Website: https://www.clevelandairport.com/
Local Information
Drive on: Right
Electricity: 120V/60Hz
Plug: A, B
Currency: US Dollar, USD, $
Services at Cleveland Hopkins Airport
Useful Information about Cleveland Hopkins Airport