Cleveland Hopkins Airport Arrivals (CLE)
Not all flights may be showing. If not available use search above to find your flight by airline, airport or flight number.
Origin
Airline
Flight no.
Scheduled
Est./Actual
Status
Chicago (ORD)
United Airlines
UA1580 expand_more(5)
08:53
Scheduled
Chicago (ORD)
Air New Zealand
NZ2179
08:53
Scheduled
Chicago (ORD)
All Nippon Airways
NH7404
08:53
Scheduled
Chicago (ORD)
Copa Airlines
CM2755
08:53
Scheduled
Chicago (ORD)
Emirates
EK6234
08:53
Scheduled
Chicago (ORD)
Swiss
LX3284
08:53
Scheduled
Tampa (TPA)
Frontier
F92434
08:58
Scheduled
Newark (EWR)
United Airlines
UA1386 expand_more(3)
09:00
Scheduled
Newark (EWR)
Air Canada
AC3123
09:00
Scheduled
Newark (EWR)
Lufthansa
LH7638
09:00
Scheduled
Newark (EWR)
SAS
SK3912
09:00
Scheduled
Boston (BOS)
JetBlue Airways
B6541 expand_more(6)
09:05
Scheduled
Boston (BOS)
Aer Lingus
EI5364
09:05
Scheduled
Boston (BOS)
American Airlines
AA9382
09:05
Scheduled
Boston (BOS)
Hawaiian Airlines
HA2403
09:05
Scheduled
Boston (BOS)
Icelandair
FI7877
09:05
Scheduled
Boston (BOS)
Qatar Airways
QR3829
09:05
Scheduled
Boston (BOS)
TAP Air Portugal
TP4273
09:05
Scheduled
Chicago (ORD)
American Airlines
AA2923 expand_more(6)
09:12
Scheduled
Chicago (ORD)
Aer Lingus
EI7218
09:12
Scheduled
Chicago (ORD)
Alaska Airlines
AS4051
09:12
Scheduled
Chicago (ORD)
British Airways
BA5139
09:12
Scheduled
Chicago (ORD)
Cathay Pacific
CX7606
09:12
Scheduled
Chicago (ORD)
Gulf Air
GF6617
09:12
Scheduled
Chicago (ORD)
Iberia
IB4543
09:12
Scheduled
Orlando (MCO)
Frontier
F91028
09:15
Scheduled
St Louis (STL)
Southwest Airlines
WN3081
09:25
Scheduled
Nashville (BNA)
Southwest Airlines
WN309
09:40
Scheduled
Houston (IAH)
United Airlines
UA644
10:00
Scheduled
Chicago (ORD)
United Airlines
UA2111
10:00
Scheduled
Denver (DEN)
Southwest Airlines
WN546
10:05
Scheduled
Phoenix (PHX)
Frontier
F92416
10:16
Scheduled
Charlotte (CLT)
American Airlines
AA1043
10:24
Scheduled
Denver (DEN)
United Airlines
UA1795
10:29
Scheduled
Chicago (MDW)
Southwest Airlines
WN2426
10:30
Scheduled
Baltimore (BWI)
Southwest Airlines
WN748
10:50
Scheduled
New York (LGA)
Delta Connection
DL3692
10:54
Scheduled
Boston (BOS)
Delta Connection
DL5590
10:55
Scheduled
New York (LGA)
American Airlines
AA4722
11:00
Scheduled
Minneapolis (MSP)
Delta Connection
DL3906
11:06
Scheduled
Dallas (DFW)
American Airlines
AA1228
11:08
Scheduled
New York (JFK)
Delta Connection
DL3849
11:39
Scheduled
Fort Lauderdale (FLL)
Spirit Airlines
NK1608
11:40
Scheduled
Detroit (DTW)
Delta Connection
DL5161
11:43
Scheduled
Washington (IAD)
United Airlines
UA755
11:44
Scheduled
Washington (DCA)
American Airlines
AA5380
11:52
Scheduled
Chicago (ORD)
United Airlines
UA1686
11:59
Scheduled
No flight arrivals were found at Cleveland Hopkins Airport.

Flight Arrivals at Cleveland Hopkins Airport
Information that is useful to know about Cleveland Hopkins International Airport upon your arrival. When arriving at any airport - always remember to retrieve your luggage before exiting the airport.
Transferring to or from Cleveland Airport
Pick-ups – Greeters that are planning to collect a traveler from the airport can either park in the CLE Smart Parking Garage adjacent to the terminal at an hourly fee or wait in the Cell Phone Waiting Lot near the airport until the traveler is ready for pickup.
Rental cars – All the car rental companies at Cleveland Hopkins Airport are located in a separate consolidated car rental facility off airport grounds with complimentary shuttle buses transferring customers between the airport terminal and the facility. Shuttles departing to the facility can be found at Door 7 across from the Baggage Claim, while shuttles arriving from the facility drop customers off at Door 4. The shuttles depart continuously 24 hours a day, 365 days a year and the ride takes approximately 5-7 minutes.
Buses – There are no bus routes directly servicing the airport. To get to the nearest bus station, please take the rapid transit RTA Red Line train from the Airport Station to Tower City Station in downtown Cleveland where the bus station is also located.
The nearest Greyhound station is a short bus ride from there, or a 20 minute walk if that is preferred.
Trains – The RTA Red Line is a rapid transit train line servicing Cleveland Hopkins Airport and downtown Cleveland. It runs from approximately 4.00 AM to around 12.30 AM all days of the week between the Airport Station, located on the lower level of the terminal, and Tower City Station in central Cleveland. The journey is around 30 minutes and tickets or passes can be purchased in the Ticket Vending Machines located at the station.
For transfers to an RTA bus at the other end, this is possible and a 5-trip pass is recommended for this occasion.
Taxis – The airport taxi cabs are white and you find them at the south entrance where a representative for the taxi companies will greet you and assign a taxi cab to you.
The taxi journey from Cleveland airport to downtown Cleveland is approximately $45-50 and will take around 20-25 minutes depending on the traffic at the time of the journey.
Limousines, Shuttles and Ride Shares – Other means of transfer from the airport are through the pre-arrangement of a limousine, shuttle or rideshare. These are organized by the traveler or someone representing the traveler before the arrival at the airport directly through the company, or through the hotel if they offer shuttle transfers to their guests.
Smoking at Cleveland Airport
There are designated areas outside of the airport terminal, which are the only places smoking is allowed at the airport.
WiFi at Cleveland Airport
Free WiFi is offered to travelers coming through the airport.
Courtesy Phones at Cleveland Airport
There are white courtesy phones located throughout the airport to be used when in need of assistance or for questions about the airport. The Information Desk is reached by dialing extension 6000.
ATMs at Cleveland Airport
There are several ATMs located on the secure side of the airport, including in the Baggage Claim area, next to the Welcome Center and on the passenger bridge to the CLE Smart Parking Garage, on level 3.
Mother's Room at Cleveland Airport
There is a Mother's Room available for nursing mothers that wish to have some privacy. The room is divided into a common area with a sink and changing table where well-behaved accompanying children can sit and wait, and two separate rooms for nursing equipped with comfortable seating and an outlet.
The room is secured with a security camera outside the door and moms wishing to enter use the adjacent courtesy phone to let the operator know they want to be let in. The operator will check the camera to ensure the room is only used for its purpose.
The room is located in Concourse B, across from Gate B-1.
Interfaith Center at Cleveland Airport
The Interfaith Center is located next to the Concourse B Security Checkpoint once through to the secure side, airside. It is open to members of all faiths for a few moments of reflection or meditation in silence.
A Sunday Service is held at 10.00 AM on the first Sunday of every month.
The Center is open Monday-Sunday 5.00 AM to 11.00 PM.
Pet Relief Area at Cleveland Airport
The pet relief area for arriving pets is located at the north end of the baggage claim, nearest to Carousel 1, to the left of the USO, there is also a pet relief area in the main concourse. Pet waste bags as well as a trash receptacle are available and owners are asked to clean up after their pets.
Mail services at Cleveland Airport
A U.S. Postal Service mailbox is located in front of the North Security Checkpoint. Pickups are at 10:45 PM Monday-Saturday with no mail service on Sundays.
If you cannot get something through the security control, and it can be mailed, Airport Mailers offer mail-it-home services to travelers. For more information, please visit the Airport Mailers website. http://www.airportmailers.com/
Shopping, Food and Beverages at Cleveland Airport
There are many places to shop, eat and drink located in the Main Terminal and Concourses A, B and C on the airside/secure side of the security checkpoints. There is a Subway located in the Ticketing area of the upper level of the terminal building.
Was your flight delayed or cancelled?
You may be eligible to receive up to 600 EUR compensation per person in your party..
Claim Now!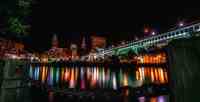 Things to see and do in and around Cleveland, local to Cleveland Hopkins Airport